Cannonball Run Europe 2010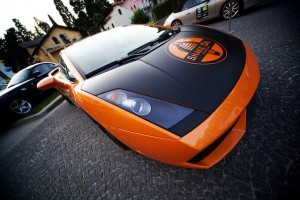 Well that was a hectic week! I have just got back from filming and photographing the Cannonball Run Europe – an event best described as a rolling party, where petrol heads from around the world came to drive on some of the best roads and track Europe had to offer. This year we took in the sights and sounds of Portoroz (Slovenia), Rappalo, the Monza F1 track, Milan and Versailles.
The biggest challenge for me was the incredibly tight deadlines and quick turnaround on my work throughout the week. Each day the event website was updated with photos and a blog from the previous day. Every evening the video tapes from two cameras where logged and transferred to the mobile editing suite. During the day I edited, colour graded and mixed an appropriately pumping soundtrack, all while travelling between checkpoints. In 6 days I covered 2500 miles, captured and processed 18 hours of high definition video footage, took over 1200 images and edited a 15 minute video which received a standing ovation when it was shown at The Grand Hotel, Brighton, during the final night party. Oh, and I got to party a bit too!