BKSA Round 3 – Barrow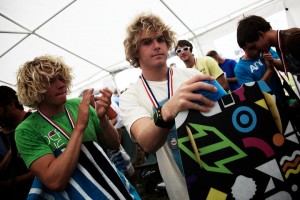 Following two windless events in Watergate Bay and Redcar, It was refreshing to have a good forecast for the majority of round 4 of the BKSA tour 2010.
This event was one of four kiteivals scheduled for the season, which include kitesurfing, course racing, land boarding and land buggying.  Many of these disciplines take place at the same time and this can cause a logistical headache for me, trying to be in all places at the right time, just as the action happens.  The event arenas are spread out on land and water making the most of the space to provide a safe competitive area and it certainly keeps me fit running up and down the length of a four mile beach for three days.
Although the wind did not show on Sunday, all events were run and completed in the first two days of the competition and this gave me a little more time to head back to the studio and get on with the edit, finished in record time, online and viewable to all by Tuesday evening.
Next up Ayr, Scotland, next month!